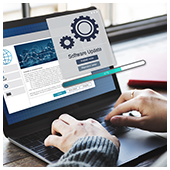 Updating Microsoft's Windows 10 to the next major patch can be a time-consuming and computer-slowing endeavor. However, Microsoft has diligently worked to find a solution to this problem. Their latest efforts may just work to quicken the updating process and make all users of Windows 10 very happy.
What Microsoft is proposing to streamline for the Windows 10 update process is a system known as a UUP or a Unified Update Platform. A Unified Update Platform is essentially a large series of changes to Windows 10, all of which occur behind-the-scenes and will not affect overall user experience. These changes will work to reduce the amount of processing power required to update Windows as well as make the updates move faster for Windows 10 users who need to keep things moving along quickly.
This UUP ambition will be accomplished in a number of ways, including significantly shrinking the size of the update files for all devices, and especially, making the Windows phone update process much more streamlined than it currently is. One of the ways Microsoft proposes to streamline and speed up the update process is by sending updates that are device-specific rather than distributing a full bundle of updates together, some of which are not necessary for the device in question.
Currently, Windows 10 updates essentially overhaul the entire version of Windows 10 that users have on their device. This makes the update process easier on Microsoft, but not on users. Instead of this system, the UUP will eventually allow updates to occur only to the specific programs and systems that need updating, leaving the rest of the operating system untouched. Larger system-wide updates will also be much faster and more efficient with the UUP system in place.
Should you have further questions about what this new Windows 10 update process could mean for you and your business, contact us as soon as possible. We can help you with all your operating system needs.
Published with permission from TechAdvisory.org.
Source.