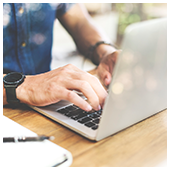 "Time is money" may be a cliche, but it is worth repeating because it's true. In fact, Apple incorporates many time-saving features onto its macOS updates so that Mac users become more efficient the longer they use their machines. Use our checklist to become the time-saving machine you're meant to be.
Declutter with Desktop Stacks
Because of enhanced syncing capabilities, the Mac Desktop is the best place for making files accessible from all your synced devices, be they on macOS or iOS. However, clutter can quickly build up on the Desktop, and it's such a time-consuming hassle to organize everything.
Thankfully, Stacks can declutter your screen with just a few mouse clicks. Simply click on the desktop, then click View > Use Stacks. Or you can Control-click (right-click) on the desktop, then click Use Stacks. Stacks will then group files of the same kind together by default. Images will be in one pile, while docs, PDFs, and presentations will be in their own separate piles.
Of course, you may use a different filing method. Click on the desktop, then View > Group Stacks By, then choose a category, such as tag or date modified, among others.
Use Universal Copy and Paste
Ever had an image or piece of text that you found on one device and wanted to use in a program opened in another computer? We had to send ourselves emails or instant messages just for those juicy bits of content! Thankfully, Apple's new universal copy and paste feature makes things easier.
Assuming you're logged on to multiple devices using one iCloud account, you can just copy stuff from one device and then paste it onto another — no other extra steps required!
Reduce clicks further by just dragging text
Within the same device, you can highlight text in one app window, then drag-and-paste it directly onto another app window — no need to copy or cut. You can also drag the text to the desktop to create a new text clip document.
Converse with Siri on your Mac
Now that Siri's on the Mac, you can use the personal assistant to perform side tasks while you complete your spreadsheets or polish your presentation without being sidetracked.
There are many ways to activate Siri:
Click the Siri icon found in the menu bar, Dock, or Touch bar.
Simultaneously press and hold the Command key and Spacebar until Siri responds.
If Siri is already up, click the Siri icon or the mic icon in the Siri window.
Just say "Hey, Siri." (This only works on 2018 MacBook Pro models, and only when the computer lid is open).
With Siri open, you can then ask it to describe the weather in Maui, locate taco joints near you, and invite more participants to your 2:00 p.m. meeting by name, among many other things.
Run Windows
While this tip may be unpalatable for Mac purists, having Windows as an extra operating system gives users access to software that macOS doesn't have. Obviously, this eliminates the hassle of having to rely on busy Windows-using teammates to help you out.
You can use a virtualization app such as Parallels Desktop, VMware Fusion, or VirtualBox to run Windows alongside macOS. Alternatively, you can partition your hard drive and use Boot Camp Assistant to install Windows on your hardware.
To recap, here's our time-saving checklist:
Declutter your desktop with Stacks
Take advantage of universal copy and paste
Simply drag text across app windows
Multitask with Siri
(Optional) Use Windows alongside macOS
Curious about how to make the most out of your Macs? Talk to us — we'd be more than happy to complete your checklist and more to help your business become more efficient.
Published with permission from TechAdvisory.org.
Source.